EHPM Conference on Quality & Safety in Food Supplements: from Farm to Fork
Date
20 Apr 2023

10:00

to

17:30
Address
Sofitel Brussels Europe
Place Jourdan 1
Belgium
Section
Agriculture & Food
Health & Consumers
Event Description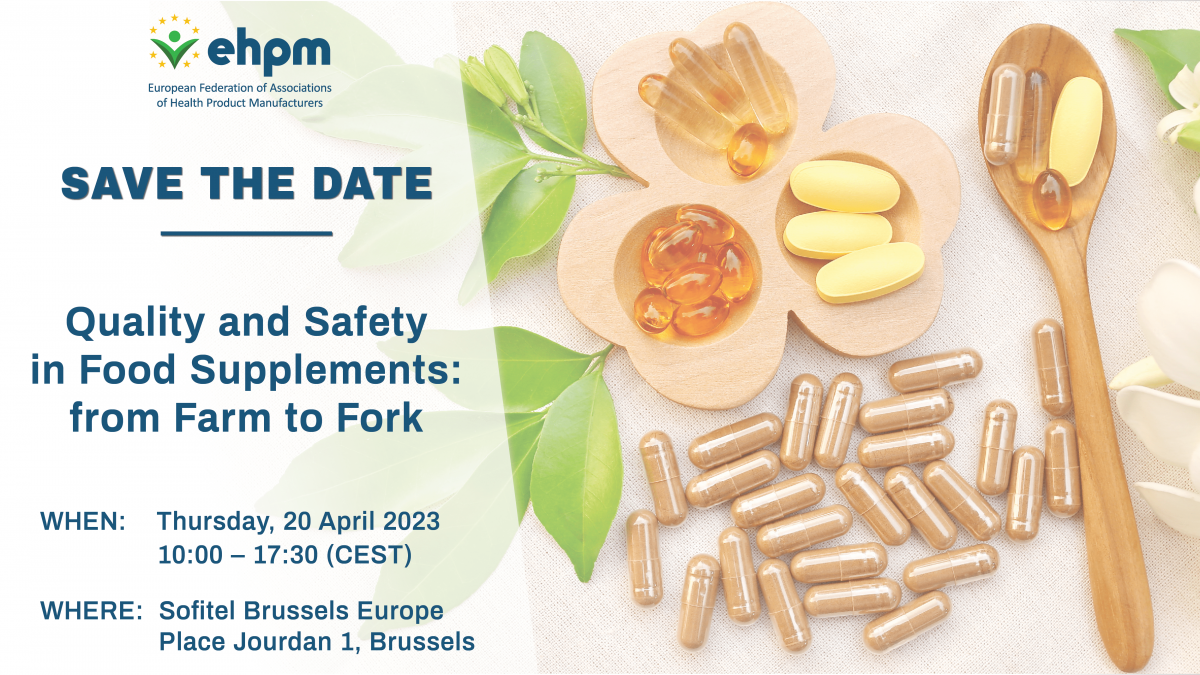 EVENT DETAILS
WHEN: Thursday, 20 April 2023 from 10:00 to 17:30 (CEST). Registrations and welcoming coffee from 9:30.
WHERE: Sofitel Brussels Europe, Place Jourdan 1, 1040 Brussels
PROGRAMME: Accessible here.
REGISTRATIONS:
Open until Friday 7 April and accessible here.
Quality and safety are closely interlinked and are the main aspects that a food business operator must take into account when developing, producing, and marketing a product. Quality, in fact, is not an ingredient that can be added somewhere through the production process, but quality standards should be there from the very beginning and should be constantly present at any stage of the production process, from the selection of the raw materials to the post-market stage: "from Farm to Fork", which is the name of the European strategy at the core of the European Green Deal, aiming to make food systems fair, healthy and environmentally-friendly.
During this event, EHPM will outline its proactive approach to support the sector in enhancing these two fundamental aspects and officially launch and present the 3rd edition of its Quality Guide for food supplements.
The conference will see the participation of DG SANTE officials (Units A.1 & E.2) as guest speakers, as well as representatives from the industry and technical experts. This will be an opportunity for EU Institutions, the industry and stakeholders across Europe to share best practices and engage in a debate on the leading topics of the day.